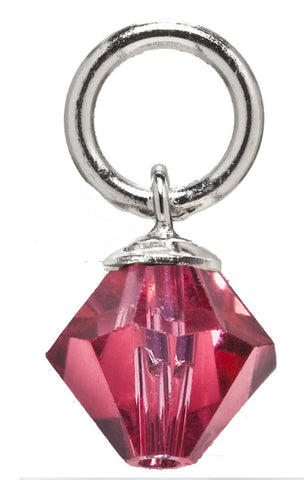 Sterling Silver Pink Swarovski Crystal Charm
1/2" Pink Swarovski Charm - Silver - Each.
1/2" drop length when in use.

This is a nickel free, hypoallergenic silver and Swarovski crystal charm.

Buy one for a sterling silver necklace or more to stack or use on our sterling silver hoop earrings and stackable charm bracelets.
Used with hoops as crystal drop earrings, you've got yourself a pair of crystal earrings you can wear year round!
This crystal pink charm works interchangeably with our sterling silver hoops, sterling silver necklaces, stackable charm bracelets and sterling silver dangle earrings as well as our other sterling silver beads, sterling silver charms, sterling silver pendants, other Swarovski crystal charms, pearl drops and more! 
SHIPPING: In stock - this item ships immediately